GUARANTEED BEST PRICES
No one sells more Chevrolets, Kias, Hyundais and pre-owned vehicles throughout the Metro Detroit area and Lansing than Feldman Automotive. That's why our dealerships offer you the best prices and the best deals GUARANTEED. Feldman's experienced team prides itself on offering an array of automotive financing options to help get you on the road with a new or used car, truck or SUV as quickly as possible. No need to wait, apply for your Feldman financing online TODAY.
MICHIGAN'S LARGEST SELECTION OF QUALITY VEHICLES
Feldman Automotive is your best source in Michigan to find your next new or pre-owned vehicle.
Visit one of our five Feldman Chevrolet dealerships and choose from the most popular Chevy models: Chevrolet Silverado 1500, Chevrolet Malibu, Chevrolet Equinox, Chevrolet Camaro, Chevrolet Cruze, Chevrolet Sonic, Chevrolet Spark, Chevrolet Volt, Chevrolet Impala, Chevrolet Corvette, Chevrolet Colorado, Chevrolet Equinox, Chevrolet Trax, Chevrolet Traverse, Chevrolet Tahoe, and Chevrolet Suburban.
At Feldman Hyundai of Waterford, you'll find a huge selection of top quality Hyundai models: Hyundai Accent, Hyundai Elantra, Hyundai IONIQ Electric, Hyundai IONIQ Hybrid, Hyundai Kona, Hyundai Sante Fe, Hyundai Sante Fe Sport, Hyundai Sonata, Hyundai Sonata Hybrid, Hyundai Tucson, Hyundai Azera, Hyundai Veloster, and the Genesis G80.
Feldman Kia of Novi is best source for the entire Kia lineup: Kia Optima, Kia Forte, Kia Stinger, Kia Sorento, Kia Soul, and the Kia Sportage.
Looking for a great pre-owned vehicle? Check out the Feldman 1 800 Pre-Owned Supercenters. They feature an expansive selection of certified pre-owned and quality used vehicles—hundreds of models from virtually every make: Chevrolet, Ford, GMC, Dodge, Jeep, Buick, Chrysler, Ram, Hyundai, Kia, Cadillac, Toyota, Lincoln, Honda, BMW, Land Rover, Nissan, Volkswagen and more.
With so many cars, trucks and SUVs to choose from, you're sure to find the perfect vehicle for you and your needs.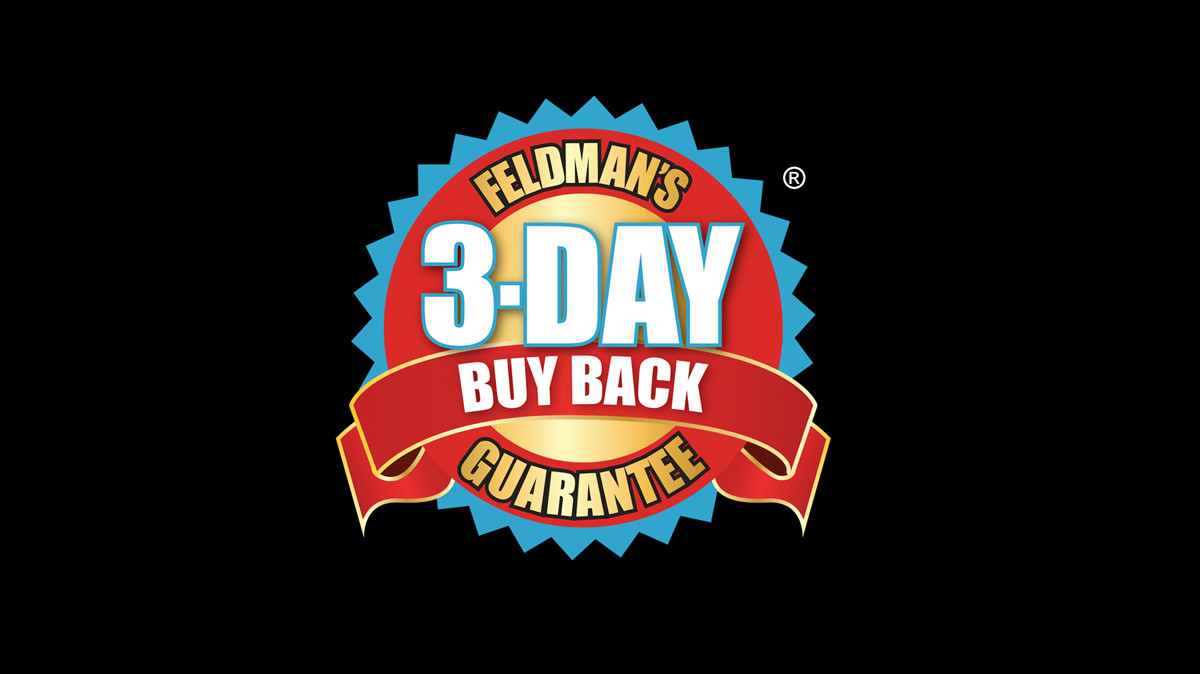 3-DAY BUY BACK GUARANTEE
With the Feldman 3-Day Buy Back Guarantee , you can return your pre-owned vehicle for any reason within 3 days and 150 miles. Drive it to work to make sure it's comfortable for your daily commute. Go shopping. Travel the highway. Take a friend or your family for a ride. Make sure it's the right car for you and your needs. Love it or bring it back.
NOTICE REGARDING FELDMAN 3-DAY BUY BACK GUARANTEE THE "FELDMAN 3-DAY BUY BACK GUARANTEE" APPLIES ONLY TO QUALIFYING USED VEHICLES. NEW VEHICLES DO NOT QUALIFY FOR THIS PROGRAM. CERTAIN USED VEHICLES MAY NOT QUALIFY FOR THIS PROGRAM AS DETERMINED BY THE DEALERSHIP DUE TO THEIR MECHANICAL OR STRUCTURAL CONDITION. COMPLETE DETAILS REGARDING THE "FELDMAN 3-DAY BUY BACK GUARANTEE" AND QUALIFYING VEHICLES MAY BE FOUND PRIOR TO SALE AT DEALERSHIP LOCATIONS. SOME ADDITIONAL EXCLUSIONS MAY APPLY. PLEASE ASK A SALESPERSON FOR DETAILS.
EASY FINANCING & MONTHLY LEASE SPECIALS
It's easy to buy or lease the right car, truck or SUV at Feldman Automotive. Our Michigan car dealerships offer affordable financing, monthly lease specials and payments that match your budget. Plus, you can estimate your monthly payments and apply for financing online. Fill out Feldman's quick and easy financing form to see if you qualify for new or used car financing, and one of our experienced and professional sales staff members will contact you to schedule a test drive.
GUARANTEED CREDIT APPROVALS
Qualified Michigan buyers from Livonia, Novi, Highland, Waterford, New Hudson, Lansing and the entire Metro-Detroit area can find the best car loans, financing and lease terms at Feldman Automotive. Even if you have less than perfect credit, our Financing Department can help you buy or lease the car, truck or SUV that is perfect for you with payments you can afford.
9 CONVENIENT LOCATIONS
Feldman Automotive has eight convenient locations throughout the greater Detroit Area and our newest location in Columbus Ohio: Feldman Chevrolet of Novi, Feldman Chevrolet of Livonia, Feldman Chevrolet of Lansing, Feldman Chevrolet of New Hudson, Feldman Chevrolet of Highland, Feldman Hyundai of New Hudson, Feldman Kia of Novi and Feldman's flagship 1 800 Pre-Owned Supercenter store is conveniently located in Waterford. Our nestest Location, Mark Wahlberg Chevrolet of Columbus is located in Columbus Ohio. The Feldman 1 800 Pre-Owned Supercenter has additional satellite locations throughout the greater Detroit and Lansing area — Feldman Hyundai of New Hudson, Feldman Kia of Novi, Feldman Chevrolet of Novi, Feldman Chevrolet of New Hudson, Feldman Chevrolet of Lansing, Feldman Chevrolet of Livonia and Feldman Chevrolet of Highland. Easy to find and easy to work with, there's a Feldman dealership near you serving Oakland, Macomb, Wayne, Washtenaw, Genesee, Livingston, Ingham, Clinton, Eaton, Jackson and Lapeer Counties.
CERTIFIED SERVICE
More service bays and more certified technicians than any other dealer in Michigan. That's what you'll discover at Feldman Automotive. This means we get you into a service bay and back on the road faster, all while delivering outstanding, certified service. Call or click today to schedule maintenance, brake service or collision repairs. Maintaining your vehicle and keeping you on the road is all part of the Feldman way. Our service department is open every Saturday for your convenience.
FELDMAN'S CUSTOMER REFERRAL PROGRAM
The Feldman Customer Referral Program offers you the chance to make money simply by referring your friends and family to one of our dealerships. When one of your referrals buys a vehicle from any Feldman Automotive dealership, a check for $100 will be sent to you. There is no limit to the number of referrals you can send us and no limit to how much you can earn.
FELDMAN REWARDS PROGRAM
The complimentary Feldman Rewards program enables you to earn valuable reward points for every service visit at Feldman Automotive. Your points can be used for factory-recommended Genuine, GM Service and Parts including oil changes, brake service, battery service, wiper replacement, tire service and more. You can even use your points toward the purchase of your next Chevrolet vehicle. Plus, you'll receive discounts, special offers and earn Bonus Points by shopping online at over 500 retail stores. When you buy a new Chevrolet, you're automatically enrolled and you'll receive: $250 toward your next vehicle purchase, $20 toward future service performed, and 5% on every purchase made in our service department.
SATURDAY HOURS
For your convenience, all Feldman Automotive locations are open on Saturdays for both sales and service. Saturday showroom hours vary by location. Saturday service hours are 8 am to 4 pm for all locations throughout the Metro-Detroit and Lansing areas.